Marine Industry Showcase
A Waxeye case study
The MAST Academy was established to be a centre of excellence for marine, composite and specialised training, working with learners and employers to ensure a steady supply of skilled and knowledgeable workers for the Marine Sector. MAST approached Waxeye to craft a virtual reality experience to help attract and engage prospective learners, giving them an authentic glimpse into life working in the marine sector as well as the learning pathways to take them there. We created a unique experience that combined simulated content, such as placing the student beneath the waves surrounded by sea life, to filmed 360 footage of actual workplaces and interviews with MAST apprentices.
Services
360 filming
360 rendering
3D production
Creative treatment
Digital animation
Graphic design
Sound design
Unity development
User experience (UX)
Virtual reality
Authentic Immersion
One of the keys to ensuring the engagement of young adults was authenticity. The experience needed to feel like a conversation with their peers rather than an educational sales pitch. To achieve this, we captured 360 stereoscopic footage of real workplace environments and unscripted, candid conversations between apprentices reflecting on their journey to date. The humour and rapport of the interviewees also provided a genuine glimpse into the culture of the workplaces, an important factor for students looking to make the jump into professional life.
Future Proof Framework
To allow for the varying needs of students, we designed an experience framework that allows multiple pathways into the content. One where users embark on a comprehensive industry tour and another where students navigate their own way through the experience. This modular approach also future proofs the experience making it easy for MAST to add more content as new courses and pathways become available.
But wait there's more
NZTE Gulfood Mixed reality
Gulfood 2020 is the world's largest annual food and beverage trade exhibition, so New Zealand Trade & Enterprise wanted a mixed reality experience tha...
View

NZTE Gulfood Mixed reality

project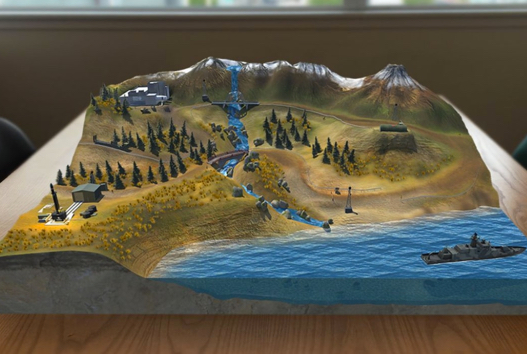 Defence Force AR
Kiwi innovation is being used to enhance the operations of armed forces right around the world, making their operations more effective and secure. To...
View

Defence Force AR

project
EXPO virtual pavillion
Aotearoa New Zealand has launched a digital version of its pavilion for Expo 2020 Dubai for audiences around the world to discover the pavilion and it...
View

EXPO virtual pavillion

project