Join the fight to save Kauri
A Waxeye case study
Aotearoa's native Kauri forests are a national treasure, ecologically and culturally significant to our people. Kauri's dieback disease currently threatens their survival, but this fight can still be won. Together with Waikato Regional Council and the mātauranga Māori advisory group, we created a game-changing, immersive educational VR experience inspiring people to join the fight, take action and actively safeguard kauri for future generations.
Services
mahi tahi
Collaboration was critical to the success of this experience. The guidance and artistic contribution from the Māori advisory group and ecological experts enabled Waxeye to create an authentic and ecologically accurate VR experience rich in mātauranga and tikanga Māori.
I Te Orokohanga
Learning the lessons from our past to help inform the future. We begin by cultivating a deeper appreciation for the cultural importance of Kauri through sharing its creation story. In Te Ao Māori, kauri and whales are brothers, so our story begins underwater, transporting users from beneath the waves into a mature kauri forest where the tree's mere presence enables hundreds of other native flora and fauna to thrive, showcasing its stature as a forest giant and cultural symbol and stressing its vital role in the forest's ecosystem.
Ā Mohoa Nei
Focusing on the present and our current relationship with Kauri. To educate audiences on how they can help save Kauri, we created a fun and engaging game inviting people to join the fight. Users are shrunk down to the size of a weta and challenged to practise proper forest hygiene by cleaning the shoes of giant hikers as they pass overhead.
Raurangi
We conclude the experience by rewarding the audience with a positive, hope-filled journey through a kauri forest of the future. In this future, giant Kauri reigns majestically in a restored forest rich in flora and fauna. The circle of life loops back to the beginning, mythology and ecology.
Taking the experience on the road
Launched at Fieldays 2023, more than four hundred people tried the experience across the three days, giving it rave reviews. The VR experience has now hit the road and is being shared at schools across the central North Island as part of the Enviroschools programme.
Tamariki at kura enthusiastically related the te ao Māori aspects; no one ever wants one turn. They all want to do it again
Peata Graham, Waikato Regional Council kaiwhakarite
But wait there's more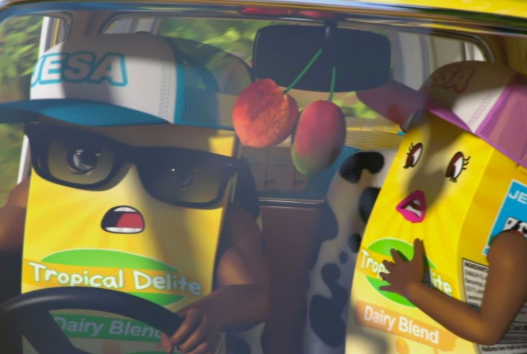 Tropical Delite TV commercial
Which other Kiwi agency can lay claim to a dairy client in … Uganda! Exactly! Celebrating this Kiwi first, we created an animated TVC and print assets...
View

Tropical Delite TV commercial

project

SneakersMedia web presence
Sneakers is a small but perfectly formed independent media agency. They provide market-leading strategy, planning and buying that focuses on a client'...
View

SneakersMedia web presence

project
EXPO virtual pavillion
Aotearoa New Zealand has launched a digital version of its pavilion for Expo 2020 Dubai for audiences around the world to discover the pavilion and it...
View

EXPO virtual pavillion

project